Encyclopedia
>
Town Český Krumlov
>
History of the town of Český Krumlov
>
The archaeological researches in the town of Český Krumlov
>
The archaeological research of the medieval town of Český Krumlov
Sebald Mattighofer´s Renaissance Acid-Test Stove (Kiln)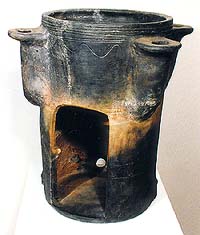 House No. 27 in Radniční Street was first observed by archaeologists at the turn of 1993/1994 (The Archaeological Research of House No. 27 in Radniční Street). Acquired discovered collections dates back to the 15th - 16th century. They contain numerous fragments of technical pottery - vessels. Some of them are connected with non-iron metal metallurgy. The most interesting discovery comes from the house cellar. Some Renaissance stove tiles fragments, a part of the appliance, which exact shape and design was not easy to determine (they managed to reconstruct it thank to hard work of restorers) were discovered in the cultural layer dating from the 16th century.
The appliance basis is a 48-cm hollow cylinder (diameter 30 cm) with solid bottom and open orifice made of clay. Two inside plastic ringlets separate it into the three identical parts. The bottom ringlet has grate-prints, the round panel was installed on the top ringlet. A large oblong-shaped opening in the cylinder front connects the bottom and middle part of the appliance. There are small round apertures on the bottom part. Four half-cylinder-shaped stove pipes coming from the middle part and a small nozzle are stick to the outside top part.
| | | |
| --- | --- | --- |
| | | |
The portable kiln was used for thermal technology of raw material. The process of combustion was carried out in the middle part, where wood or charcoal was fed onto the grate. Cinders fell through into the bottom part. The large oblong-shaped opening in the front, which could be covered, served to feed some wood or sweep out ash. Bellows could be connected to small round apertures on the bottom in order to let some fresh air flow into the bottom part. Air could flow up through the grate where it was warmed up to required temperature , clashed onto the panel bottom separating the middle and top kiln part and then flew away through stove pipes along the top part. The kiln had a very good puff. It was possible to reach very high temperatures. Combustible waste flew out through the stove pipes. They also warmed up the top kiln part. The flow of air was adjusted with the aid of covering and uncovering them.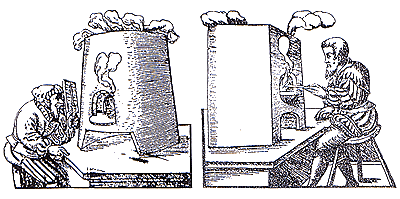 Non-iron metal ore mining and technology in the Český Krumlov region dates back to 1300 (Gold and Silver in the Český Krumlov Region during the Middle Ages ). The period of last mining prosperity in local silver and gold deposits goes back to the late 16th an early 17th century. A few professions demanding good knowledge of ore processing were required , for example, a silver baker , a gold examiner , etc. Those specialists came to the town of Český Krumlov from German speaking countries. On 29 December 1521 Sebald Mattighofer from Germany was appointed as a silver baker and rare metal examiner in Český Krumlov mines by Peter IV of Rožmberk, the ruler of Rožmberk. Sebald Mattighofer was also engaged as a mine clerk and entrepreneur in Český Krumlov. In 1540 he bought today´s house No. 27 in Radniční Street, where he lived until his death. In 1569, shortly after his death, his son Krystof , a clerk and later a master of the Budějovická imperial mint, sold the house to Wolf Pils, a shoemaker. Sebald Mattighofer was the only owner who lived in the house during the 16th century, and used such a specific appliance as the discovered kiln is.
| | | |
| --- | --- | --- |
| | | |

What exactly did Sebald Mattighofer do? What is written about him and his work by authors, for example, Georgius Agricola (1556) and Lazarus Ercker (1574), who specialised in essays on mining industry, metallurgical industry and acid tests. Georgius Agricola wrote an essay on acid test: It is possible to smelt ore in order to make a profit, and smelt pure metals. However, it is worth doing an ore experiment first. Miners are able to recognize the quality of ore from such experiments. It can determine metal content or show signs of one or more metals. Then obtained metals are tested in order to determine the amount of silver, copper or lead in one metric centner of silver, or how much silver is in one pound of gold. We can also learn whether the coin makers added more silver into gold than it is allowed or poured together more copper with gold or silver than it is regular. Ore acid-tests are distinguished from ore smelting by adding a smaller amount of used substance. If miners did not take care of it, they would gain metals from ore at a loss or with no profit at all. Ore can be tested at a minimum cost, but smelted at much higher cost. Ercker writes: " Acid-testing is an old grand craft. It was invented many years ago as well as other different fire works. It informs us about ore nature, sorts of rock, and which metals it contains. Every single metal can be searched in detail, whether to add a small amount of something or not. We can also learn how to get rid of such admixtures."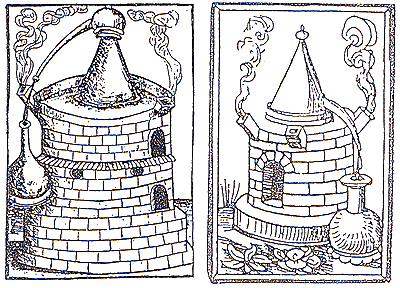 Both authors make a description of "all things needed during the acid-test work including acid-test stoves"." They can be round or four-corner-shaped made of bricks, iron or clay" according to Georgius Agricola. They used to have three parts - bottom, middle and top one, an iron plate with inside apertures where ash falls through or air flows in and blows up the fire. Therefore such stoves used by miners are called acid-test stoves and windy stoves by chemist. Stoves made of bricks are fixed, stoves made of iron and clay are portable. Brick stoves are quick to be built, iron stoves are resisting and clay stoves are more comfortable. Lazarus Ercker also knows brick, iron and clay stoves separated into the three parts with windpipes along sides and front orifice. According to him, an acid-test examiner should be able to make and use all his stoves and tools. Agricola and Ercker also describe other similar appliances besides acid-test stoves. Almost all of them have identical basic construction like the stove from house No. 27 in Radniční Street. They are vertically separated into three parts. The middle part is used for heating, air flows in from outside and ash falls through into the middle part, the top part (sometimes also the middle one) is used for technological processing.
The discovered stove ranks among the unique preserved remains of the workshop equipment owned by Sebald Mattighofer, an acid-test examiner. The workshop was situated in his house in Radniční Street between 1540 - 1569. The stove was made on the basis of particular order and according to exact tracings by one of the potters from Český Krumlov. However, very similar kilns were used during the other material processing technology, for example, type-metal smelting or swill distillation. A large number of similar appliances can be found in alchemistic literature.
Written by Lazarus Ercker: "A large variety of acid-test stoves were made. It depended on acid-test examiners´ use and need." How come some stove parts were discovered in the house cellar? Those were certainly thrown away by one of house No. 27 owners as no longer needed junk. It could have been Wolf Pils. Why should a shoemaker have kept an acid-test stove?
(me)
Further information:
Archaeological Researches in the Town of Český Krumlov
The Archaeological Research of the Mediaeval Town of Český Krumlov
History of Mining in the Town of Český Krumlov
The Castle of Český Krumlov, Silver Works from the turn of the 13th and 14th century
History of Mining of the Český Krumlov Region