Treasures of Photo Studio Seidel
Museum Photo Studio Seidel in Český Krumlov will be open during the three summer full moon evenings. This will give its visitors a rare opportunity to view this museum lit by period lighting and accompanied by guides in period costumes, giving the building a unique atmosphere.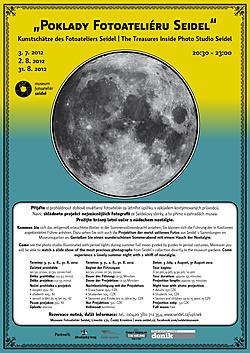 The evening setting will enhance the powerful story of this house and its treasure, an authentic photo studio. The site is minimally illuminated and exudes a scintillating magic. The guides do not rush and visitors are suddenly more open and attentive. Now they are in a better position to identify with the fates of the people who lived and worked here or who had their portraits taken here.
Charming gardens are part of the museum and this is where the action will take place under good weather conditions. The most precious photographs from the Seidel collection will be projected in the night in the museum gardens. The photos will reveal the face of Krumlov a century ago as well as the Šumava region and other places, many of which look entirely different today.
The event "Treasures of Photo Studio Seidel" will take place on Tuesday 3 July, Thursday 2 August and Friday 31 August from 8.30 pm to 11 pm. Tours will start at 8.30, 9, 9.30 and 10 pm and will last slightly under one hour. Guided tours are available in Czech, German and English languages. As capacity is limited we recommend an advance reservation which can be made on www.seidel.cz, via e-mail info@seidel.cz or by telephoning 380 712 354.
Tickets for museum entry included guided tour and photo projections are 150 CZK for adults, 105 CZK for studens and 75 CZK for children between 6 and 15 years. If you prefer to sepnd just an evening in the gardens viewing Seidel´s photographs, entry is 50 CZK. For more information and reservations please view www.seidel.cz/uplnek.
Please accept our invitation and spend a lovely summer night with a hint of nostalgia.