Rallye Český Krumlov 2012
This year's 40th jubilee of the popular Rallye Český Krumlov will again open to a wide field of contestants. Crews will compete in three competitions on Friday 25 and Saturday 26 May.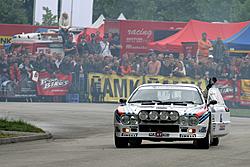 A complete Czech elite will present itself in this Mediasport MMČR and FIA European Cup, headed by sevenfold Rallye Český Krumlov champion Roman Kresta from Adell Mogul Racing team. Competing against him will be this year's national championships leader who has not yet been defeated this year Jan Kopecký representing Škoda Motorsport.
The following cups can be won in Krumlov this year: Citroën Racing Trophy CZ and Ropro Clio R3 Czech Trophy 2012 and premiering this year the Česká pojišťovna Škoda Fabia R2 Cup. As part of the masters championship of historical vehicles viewers will be able to see all top Czech crews as well as several interesting crews from abroad.
Lastly, racing fans can look forward to another Rallye Legend Show presenting interesting racing cards in a competitive but not racing tempo.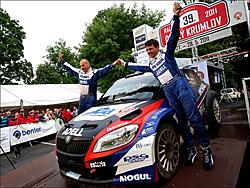 A half-round special stage at Lipno at the end of rallye is a new addition this year. Attending the special stage can be part of an actively spent afternoon at Lipno. Viewers can look forward to a rich accompanying schedule of events. 2nd RC Rallye Český Krumlov is a popular contest of shrunk "rally" models in a 1 : 10 scale taking place on Saturday 26 May 2012 on České Budějovice exhibition grounds. After going through all the special stages all participants will move to Jelení zahrada in Český Krumlov where the final closed parking place will be located. The day will be concluded by festive results presentation with the handing over of cups and prizes for the most successful participants which will take place on the end ramp of the 40th Rallye Český Krumlov in Jelení zahrada.
Source: 40. Rallye Český Krumlov © 2012