Visitors
>
Culture
>
Top Higlights
Courtly Culture in the Rosenberg Residences or Renaissance Night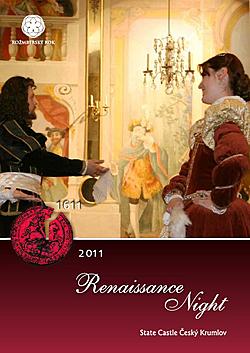 Would you like to try living during the Rosenberg reign? Come to visit a unique event - "Renaissance Night". On 16 September 2011 the Castle will experience a courtly culture of the Rosenberg residences.
Most artistic performances only present some forms of Renaissance art in isolation. This prevents a truly deep experience. The Renaissance night will paint a perfect picture of the Renaissance period by joining together all art forms. You will be able to listen to Renaissance music, learn period dances, sample the gastronomy and enjoy various kinds of Renaissance entertainment.
The last two Rosenberg rulers were firmly linked with the Royal court of the Bohemian Kingdom and were also active in diplomatic services. Having personally experienced imperial and royal courts, they have introduced music to their own court. Shortly after accession, William of Rosenberg tried to establish his own troubadour ensemble. First he borrowed troubadours from other noble residences, rewarding them richly, but in 1552 he decided to establish his own troubadour ensemble. During the Renaissance night you can listed to music of Renaissance nobility. A troubadour will play a unique trumpet, the so-called Tromba Clarina. This is a replica of a musical instrument discovered in the collection of the local Baroque Theatre.
| | | |
| --- | --- | --- |
| Supported by | | |