Tourist Routes
Tourist Routes
The Český Krumlov region, together with the Šumava area, has offered ideal conditions for all forms of hiking for ages. The beginnings of hiking on the Šumava date back to the second half of the 19th century, and some sources show that already in the 18th century expiditions were set off to Černé and Čertovo jezero (Devil's lake) with a guide who had to hack the trail out with a machete.
The club of Czech hikers, in the beginning of the 20th century, built Mattušova cottage in the Šumava with a lookout tower onto Pancíř, Klostermannova cottage on Modrava, and a host of other orientational points useful for hikers. For example, in 1825 the lookout tower was built on Kleť mountain, now the oldest lookout tower in Bohemia. 100 years later a mountain cottage was built here for the needs of the hikers. In the town of Český Krumlov, the Hotel Růže (Horní No. 154) became the heart of Czech hiking, and the uniquely historical town itself with its medieval castle and chateau became the goal for many hikers already in the 19th century.
In modern history after the opening of the border zones and dissolution of strict military guard in the border areas, hiking possibilities in the region have increased manyfold. Several state institutions, regional offices, tourist and information centers, hiking clubs, nature protectors, institutions administrating to protected landscape areas, and so on, all have their hands full of promotion, popularization, and practical usage of touris and hiking services, among others.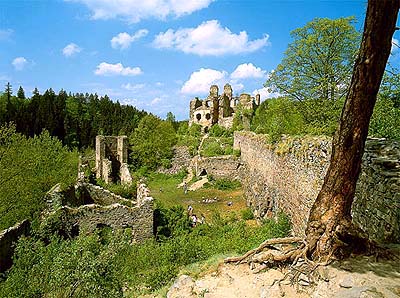 Deep forests, romantic cliffs, secret peat bogs, ancient forests, vast natural parks, the blue surface of ponds and Šumava lakes, archeological excavation sites, remains of celtic settlements, gothic ruins, Renaissance castles and chateaus, Baroque monasteries, churches, and chapels - all this and much more is awaiting you for your wanderings through the marvelous landscape of south Bohemia.