Services
>
Accommodation
>
Český Krumlov
>
Apartments, self-catering flats
Pension Galko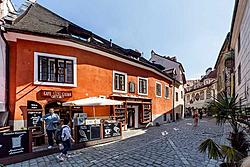 Široká 53
38101 Český Krumlov

Telephone: +420 774 780 640
Fax: +420 380 713 656

E-mail: info@galko-ck.cz
WWW: www.galko-ck.cz

Location: Český Krumlov
Type: Apartments, self-catering flats
Total capacity of beds: 18
Price for a double room: 1200 - 1500 CZK
We speak: EN, DE
No smoking: yes
Local tax (15 CZK/person/day) included in price.
| | | | | |
| --- | --- | --- | --- | --- |
|   | 210 CZK / day |     |   | Wi-fi |
Pension Galko Český Krumlov offers accommodation in two historic buildings in the centre of Český Krumlov. Galko Široká is a Gothic – Renaissance building which had been restored in the Baroque period and in the second half of 19th century. It is a one floor building with a pointed gable which is set in neighbourhood bulit-up area in an interesting way.
The second building Galko Kájovská is two floor building on two axes. Frontage to the street is decorated with sgraffitos and two - colour band painting.
Pension Galko in the centre of Český Krumlov offers accommodation in double rooms and appartments. Two of the attic appartments Galko Široká are duplex ones. All the Appartments Galko are fully equipped for accommodation.. You can find there complete kitchen with equipment (a fridge, microwave, electric kettle, knives and forks, etc.).There is a toilet, bathroom with a shower or a bath, TV and WIFI internet connection in all the rooms and appartments. Pension Galko – accommodation Český Krumlov –is non-smoking.

Accommodation in Pension Galko Český Krumlov you can pay in cash, by credit card or invoice.

Coming: from 14:00 to 18:00 o'clock
Leaving: up to 11:00 o'clock

In case you arrive by car - the entrance to the center is possible from on the basis of a permit for entry from the Municipal Office for a fee of 100 CZK for 24 hours. You can buy this permit at our reception.

In the case of later coming contact the reception: +420 774 780640 or email: info@galko-ck.cz

Parking for your cars :

Now we can offer convenient parking close to the guesthouse (about 100 meters closer than the previous car park) in the parking area of the hotel Golden Angel at discounted daily rate for 210 CZK.
Number of rooms
Type of room
Capacity
Number of guests in room
Price per room
1.7. - 31.8.
21.12. - 3.1.
1.4. - 30.6.
1.9. - 31.10.
4.1. - 31.3.
1.11. - 20.12.
1
4
4
2 450 CZK
2 100 CZK
1 900 CZK
1
4
4
2 450 CZK
2 100 CZK
1 900 CZK
1
4
4
2 800 CZK
2 400 CZK
2 000 CZK
1
2
2
1 500 CZK
1 350 CZK
1 200 CZK
1
2
2
1 500 CZK
1 350 CZK
1 200 CZK
1
4
4
2 450 CZK
2 100 CZK
1 900 CZK
1
4
4
2 450 CZK
2 100 CZK
1 900 CZK
1
4
4
2 450 CZK
2 100 CZK
1 900 CZK
1
4
4
2 450 CZK
2 100 CZK
1 900 CZK
Photogallery