ANCIENR TRACKS - NEW ROADS
26th April - 3th November 2013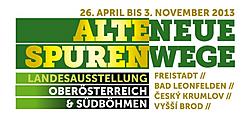 The first ever cross border Land Exhibition joins four towns in Southern Bohemia and Upper Austria - Český Krumlov, Vyšší Brod, Freistadt and Bad Leonfelden.
Individual exhibitions and programmes will present developments of this border region which were violently interrupted in the last century. For the last 20 years however the Czech and Austrians have again been trying to discover all that unites them rather than what divides them. There are many common themes. The Land Exhibition is an important opportunity to introduce and develop these themes.
The exhibition takes place in the newly reconstructed Synagogue in Český Krumlov and presents works by four photographers who were active at the end of 19th and first half of 20th century in Český Krumlov, Vyšší Brod, Bad Leonfelden and Freistadt. It presents this border region through its architecture, traditions, religion, industry and stories of individual families.
THE EXHIBITION IN SYNAGOGUE WILL BE OPEN ONLY UNTIL 4.30 P.M. ON THURSDAY 12TH SEPTEMBER.
This exhibition presents around two dozen projects dating between the medieval period and the 20th century. These are plans, projects and daring ideas concerning the Bohemian-Austrian region which were never realized for various social, econmical or ideological reasons.