Josef and František Seidel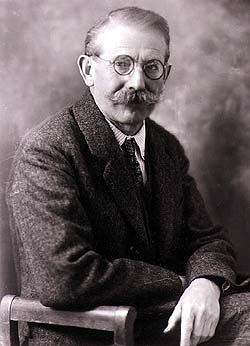 Josef Seidel (of German nationality) was born on 2nd October 1859 in the village of Hasel (Děčín area) into the family of a glasscutter. After finishing his training as a photographer's apprentice he travelled around the Austro-Hungarian Monarchy as a phootgraphic assistant. During this time Seidel also spent two years working for a Wiennese company specializing in the production of photographic plates. In 1887 Josef Seidel was already in Prachatice and around this year he probably took his first country side photographs of surrounding Šumava mountains. A year later, in 1888 he became the head of the Český Krumlov photo studio previously owned by Gotthard Zimmer (1847-1886). This studio, situated in the garden of a house in Linecká Street No.64 and led by Zimmer's widow Karolina for two years after her husband's death were soon taken over by Seidel.
The talented and all rounder Seidel soon became successful and well known. He mainly concentrated - apart from portraits ,- which weret he main topic of all photographers at that time - on taking pictures of Šumava's natural beauties throughout the seasons. He belonged among the skiing pioneers and among those first photographers, who used skis to pursue their target. In summer he then travelled on a bicycle and later even on a motorbike . From 1905 he started to drive motocycle Laurin-Klement motorcycle (four stroke engine with 6 FS/ 500 ccm), which conciderably speeded up his travelling.
In 1891 Seidel started to copy his pictures, in cooperation with the Silesian photographer Adalbert Rehnert, on diapositive slides (8 x 8 cm) , which were later, often-masterfully coloured, used for lectures.
At that time Seidel made his first panoramatic views - for example a Šumava panorama composed of 28 shots in a folding picture book in 1920. In that work, taken from Kleť Mountain , he even masterly captured distant peaks of the Alps , looming behind Šumava.
Seidel's important experimental period started with using auto chrome dye - the first wide spread technique of colouring pictures . He then belonged among those first Czech photographers who used auto chrome to print colourful postcards , (the oldest was probably published in 1910).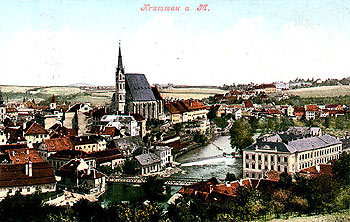 At that time together with the studio Josef Seidel was already running a prosperous publishing house , where his photographs - post cards of different sizes were printed in editions of 100 to 1000 copies of one picture.It is believed that the most successful ones were views from Špičák mountain and Šumava lakes. The negative often had a description of the theme with his embededded signature.
In 1905 his garden house with the studio was rebuilt - an outbuilding was added (probably a wedding present as Seidel, at a quite an old age, had decided to get married). And because the house has remained in precisely the same condition since then, it has become an entirely rare technical and cultural monument.
Later, 21st of May 1908,his son František was born . He was destined to continue in his father's footsteps and took over the very successful factory as a 28-year-old man, soon after his father death (21st Sept.1935). At that time this prosperous business had 11 employees and was divided into three departments - the first focused on portraits, the second on amateur pictures and the third on post card printing. František carried on the trade until 1949, then it was abolished and part of the archive of negatives was confiscated by the Public Ministry of Informatics and Education of that time. Seidel's countryside post cards were later published in the fifties published by state owned publisher Orbis.
František Seidel further continued to work as a photographer, but as an employee in the state owned business . . From that real moment he had to close the doors of his studio, did not touch anything from the archive, apart from the photographic laboratory for his private purposes. His following life was very eventful - he was put in jail for a year by the Nazis during the war and after the war his fiancé and his brother were deported with other Czech Germans to Germany. Than a terrible period of persecution followed…His fiancé was not allowed to come back until the mid - fifties and it was already to late to have children together. František Seidel died on 7th Jan 1997.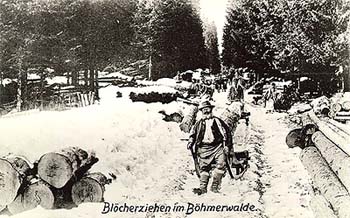 Josef and František Seidel have left, an entirely unique body of workregards contentd as well as extend , covering the Southeast part of the Šumava in great detail. The Well preserved archive of pictures offers a unique source for cultural history studies and reminds us of unsettled period of the first half of the 20th century, including problematic Czech- German questions.
Their thematic range was very wide - from studio portraits and group pictures to different Šumava characteristics. There are photos of the country as well as architecture, including architectural interiors, pictures from workers' enviroment, as well as snapshots from a variety of celebrations, including famous Passion play in Hořice. The photographs are a precise and detailed description of towns with their streets and squares, villages, churches and other monuments, of nature and the countryside. Some of the pictures contain a record of barely accessible and today even non-existant places. Genre pictures than describe casual every day life , habits and work but also holidays and sport .
It can be said that Seidel became the most truthful picture chronicler of the Šumava Mountains . His photographs were frequently used in an innumerable number of books and magazines- it would be impossible to imagine old Šumava without these old Seidel snapshots.
Seidel's pictures are also exceptional for their geographical focus - they present the Šumava and Pošumaví in a precious entirety and complexness. These facts make Seidel incomparable with any other photographer of that time in whole of Bohemia and therefore place Seidel among the most important photographers of his period.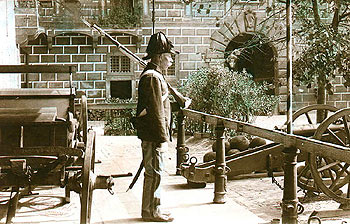 Another photographer should also be mentioned here. His name was Josef Wolf (1864-1938, his studio can be also found in Český Krumlov) and, with his sons, he also left a breathtaking document of the Šumava , Český les and Cheb area. But after 1945 these photos lack every day life spirit both in a real and symbolic sense.
Sources and literature
Český Krumlov na starých pohlednicích. Muzeum Český Krumlov, 1992
L. Budínský: Kdo zachrání fotoateliér... in: Magazín Lidových novin. 28. 2. 1997.
Petr Jelínek: Josef Seidel, in: www.ckrumlov.cz
I. Jordan: Photographie im Böhmerwald 1880 - 1940, Steyer 1984;
Pavel Scheufler: Galerie C.K. fotografů, Grada Publishing, 2000, str. 162 – 164.
Pavel Scheufler: Josef Seidel Antique V, 1998, č.12, s. 28-29.
Pavel Scheufler: K počátkům fotografie na Šumavě, in: Kolektiv autorů: Šumava. Příroda, historie, život. Miloš Uhlíř – Baset, 2003, str. 483 – 488.
Pavel Scheufler: Příběh fotografa. In: Lidové noviny, 1992, 11. 12.
V. Starý: Stará Šumava. Vimperk 1991
Eva Zajíčková: Fotoateliér otce a syna Seidelových je nedoceněnou památkou, in: MF DNES, 8.1.2000, str. 3.